Save the Date for the Back the Blue Pig Cook Off Competition!
WHEN: December 9th, 2023
Location: Tropical Park 7900 SW 40th St Miami, FL 33155
Biggest pig roast competition in South Florida for our First Responders! 
100+ teams
1 champion
The Love Fund is a charitable 501(cx3) organization that is affiliated with the South Florida PBA and aids fallen
Officers and their families when no other funds are available to do so. Any money collected by the love fund
Helps pay for the funerals of officers killed in the line of duty, education for the children of fallen officers and
Psychological counseling for officers and immediate family members impacted by the stress of the job.
Learn more about the Love Fund here: The Love Fund Postcard
Event will feature:
Live music
Food tastings
Kids activities
Pop-up shops
Family fun
Saturday funday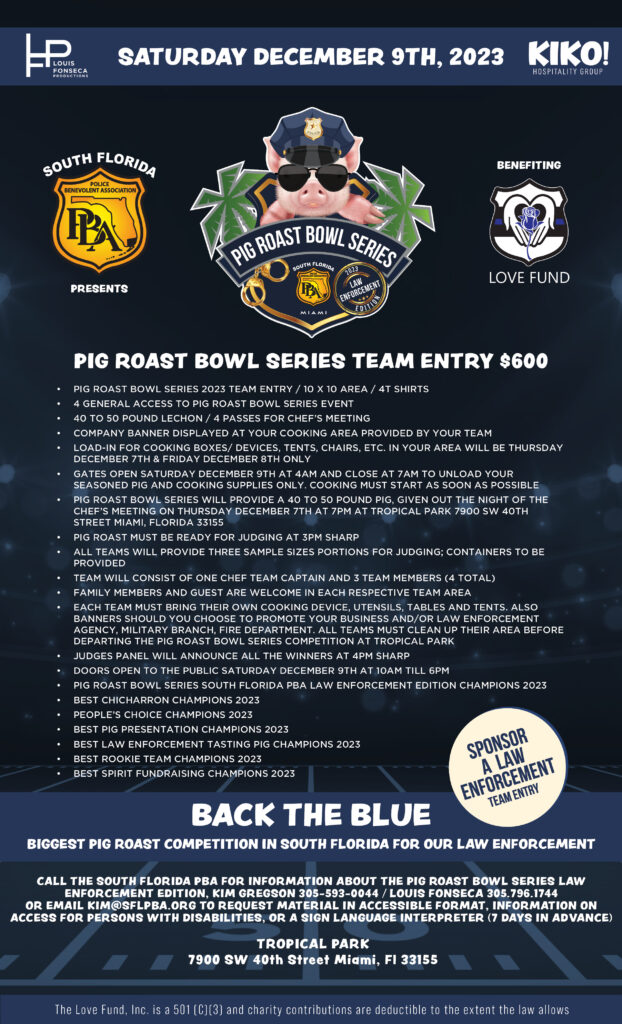 Pig Cook Off Competition Form
Download Now
Interested in Sponsoring the event learn more here:
If you are interested in being a part of the PIG ROAST BOWL SERIES SOUTH
FLORIDA PBA LAW ENFORCEMENT EDITION 2023, please contact:
Louis Fonseca
Co-Founder
C: 305.796.1744
E: Louisfonseca28@gmail.com
Roberto "Kiko" Suarez
Co-Founder
C: 305.244.0591
E: Rikoconkiko@gmail.com
Kim Gregson
South Florida PBA
O: 305.593.0044
E: Kim@sflpba.org